Tango de Salón 1
Lengths 2 hrs. 10 min.
Languages español - english - deutsch - français - portugues - italiano - türkçe - polski - corean - japanese
System PAL and NTSC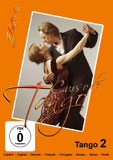 Tango de Salón 2
Lengths 2 hrs. 30 min.
Languages español - english - deutsch - français - portugues - italiano - türkçe - polski - corean - japanese
System PAL and NTSC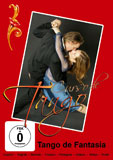 Tango de Fantasía
Lengths 1 hrs. 30 min.
Languages español - english - deutsch - français - portugues - italiano - türkçe - polski
System PAL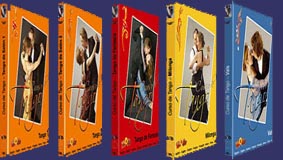 Tango instructional DVDs

Tango de salón
With our instructional tango DVDs "Tango de Salón 1" and "Tango de Salón 2", you will learn the most important sequences that are danced in Tango Argentino.
Apart from the sequences, you will learn how to improvise, (an important part of the dance). These classes show you Ricardo "El Holandés" and Rotraut Rumbaum in one of the oldest milongas in Buenos Aires: Sin Rumbo "!

In Tango de Salón 1&2 you are also shown variations depending on the music, and exercises as well as being made aware of the most common mistakes and other aspects.
The DVDs Tango 1 and Tango 2, each contain more than 120 minutes of instruction.

Tango de Fantasía
Ricardo & Rotraut will familiarize (very) advanced tango dancers with more demanding sequences on the DVD, "Tango de Fantasía".

Milonga und Vals
Apart from the Tango DVDs, we offer the DVD No. 4 "Milonga" and 5 "Vals", both with a running time of 90 minutes.
These DVDs will show you how to dance milonga and Vals with regard to thei respective character and musical requirements as danced in the Salons of Buenos Aires.


Webshop
Milonga
Lengths 1 hrs. 30 min.
Languages español - english - deutsch - français - portugues - italiano - türkçe - polski
System PAL
Vals
Lengths 1 hrs. 30 min.
Languages español - english - deutsch - français - portugues - italiano - türkçe - polski
System PAL